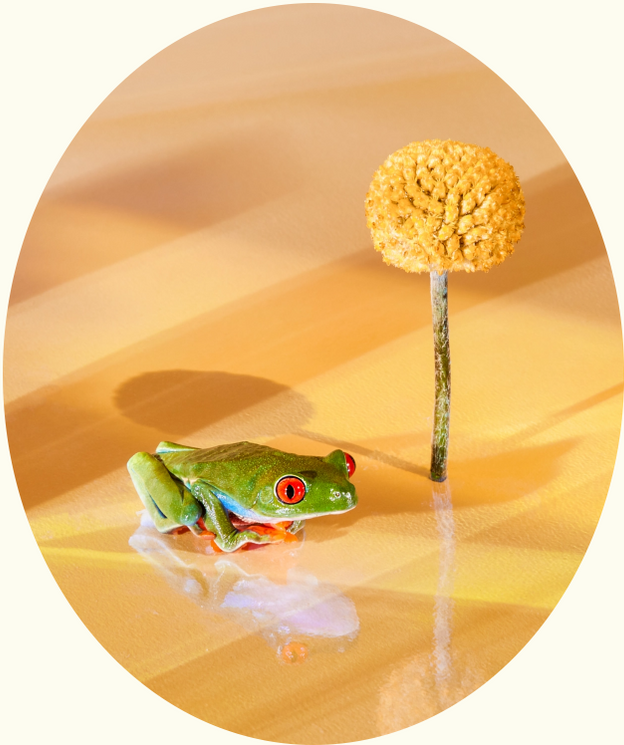 Rebuild Your Skin Strategy
HoliFrog is a clean, clinically driven skincare line meticulously formulated to improve overall skin health and function for visible results and proven longterm reparative benefits. Though holistic methodology and high performance ingredients backed by extensive scientific research, HoliFrog provides adaptable solutions that communicate with your skin to tackle every skin situation life throws at you.
Good skin starts with a good mindset.
When you're holistically healthy–drinking water, eating greens, wearing sunscreen, and moderating time spent on Instagram–your skin starts to behave better.
Just as frogs are part of a larger ecosystem, your skin is part of a bigger picture, one that's connected to your mind and body's health and function.
A mind-skin connection is how each is linked to and affected by the other. We're putting skin on the path to health with mindful and intentional ingredients that instruct your skin cells to do what healthy skin cells should be doing. Holistic practices meets effective face washes—we're keeping it clean in body, mind, and bathroom. HoliSh*t, right?
Cautious vs. Clean Beauty
Clean beauty is a booming market but a relatively new one that hasn't yet been scrutinized and regulated to the degree that can allow it to fully live up to its claims. Products described as natural, non-toxic, safe, and clean might make you feel better using them, but they're actually unproven and unregulated marketing buzzwords. Harsh, but true. Ingredients derived from nature are great, but so are some synthetic formulations.

We formulate responsibly, using ingredients in harmony with skin. We're all about being holistic above all. (It's in the name, after all.) That's why, when formulating our products, we considered the scientific data backing up the efficacy and safety of every included ingredient, cherry-picking only the champions that fulfilled our criteria: they need to work (obviously), they need to be safe, and they need to protect and enhance the health of the skin (meaning no lazy fillers allowed). Using intentional ingredients that are proven and reliable, never risky that boost your skin's health and its natural healing abilities, while also contributing to your overall wellbeing. That's why careful goes a lot further than clean with us. Consider it the halo effect of responsible and thoughtful formulation.
Sustaining Lands Leads to Sustainable Brands
Taking care of your skin shouldn't come at the expense of our environment. As with our formulation philosophy, we believe in the holistic, harmonious relationship between beauty and sustainability. By partnering with the Land Trust Alliance, our mission is to inspire change, foster sustainable habits, and lead by example through ingredient sourcing, manufacturing and product packing.
Meet the Founders
The faces behind the washes.
Emily Parr
Publicist by trade, face-washer by nature.
Her skin was congested from years of applying sunscreen and sweaty 10-mile runs. With over 10 years of buying, trying, and face washing, there wasn't a wash she hadn't tried. Not one of them managed to clean her skin properly. After talking to friends and strangers, she realized she wasn't alone.
Now, she's giving attention to one of the most neglected parts of the beauty industry: face washes. Reviving your relationship with your first bathroom love, giving you the freedom to choose and your skin the freedom to function.
Majeed Hemmat
A beauty enthusiast, through and through.
In 2008, Majeed was introduced to an organic indie beauty brand in need of guidance. He saw this as an opportunity to transition to the beauty industry from a VP role in fashion.
Taking his 10 years of experience, knowledge and relationships in fashion he quickly made a name for himself in the beauty arena and his namesake brand management agency was born. Representing some of the fastest growing clean beauty brands in the industry and working with the world's top retailers, he has helped build the global retail landscape for these prestigious brands.
With a successful 12+ years in the beauty space in an ever evolving industry, this led him to launch his own brand.